We create luxurious glamping experiences in Northern Ireland.
OUR GLAMPING VILLAGES
We create incredible "popup" glamping villages alongside weddings, festivals, retreats, private parties and other events!
We offer camping and glamping for different occasions
Festivals and Shows
We pitch tents at local festivals - allowing you to just show up and enjoy yourself, without having to worry about putting tents up and down! Usually we'd be pitching at festivals like Stendhal and Dalriada. Roll on 2021!
Weddings and parties
Fancy something a little bit different? We supply and pitch the most beautiful, fully furnished boutique bell tents to house you and your guests. Just let us know where you'll be and we'll come and pitch where your party is at!
Sporting Events
We can pitch close by sporting competitions and races this year - making it a super handy option for competitors.
residential retreats
We can pitch alongside wellness retreats providing an accommodation that aligns with the spirit of the retreat itself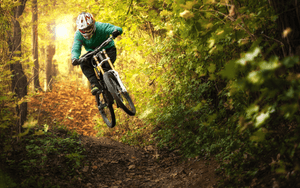 Part of a local business or sport club?
We're keen to collaborate with other businesses and clubs who want to offer camping as part of their offering or who'd like to make a group booking for their club.  Give us a shout - we'd be happy to discuss!
Read what customers think about us!
Brilliant service. Nothing was too much trouble for Martina. Booking was easy, queries were answered quickly and tent was set up waiting for us when we arrived. This is a great service and would highly recommend.
Denise
Facebook Reviews @explore54
My wife booked last minute tickets and pre pitched tent. First class service. Even left us a pump and an extra air mattress in case. Great communication with my wife and pictures of where the tent was at the Dalriada Festival. Thank you so much. This is a great service.
Lee
Facebook Reviews @explore54
I was lucky to be a competition winner and had the use of the tent and camping equipment for a weekend of our choice. We thoroughly enjoyed our experience and would highly recommend Explore54 to anyone. We have the bug now and are looking forward to our next camping adventure! Thanks again Martina
Alison
Facebook Reviews @explore54
we have just had the best experience camping , thanks to explore 54. we are camping beginners and they had the tents totally stocked with everything we needed except for our sleeping bags and food . they even picked a top campsite for us. Benone with its amazing beach and facilities. we are already planning our next trip and would definitely use explore 54 again. fantastic customer service , highly recommended.
Jen
Facebook Reviews @explore54
Some of our musings about camping